1. Pre-quarantine medical check
To ensure that incoming orangutans do not bring any diseases into the station, each new animal spends three months in quarantine. Before this, an extensive entry examination is carried out. This includes a physical examination, the collection of blood, stool and tracheal samples to test for parasites, viruses and bacteria, and a routine blood test. A COVID-19 test has also been added.
2. Post quarantine medical check
At the end of the 3-month quarantine period, the test is repeated to make sure that the orangutans are completely healthy. If the results are positive, the animals are socialised. The vast majority of orangutans live in the station in so-called socialisation enclosures, where they share an enclosure with others. In the group, the mostly young animals learn from each other and interact with each other. It is therefore particularly important for the welfare of the group that no contagious diseases are spread.
3. Medical examination before release
Before the orangutans are reintroduced into the wild, final medical examinations are carried out. Is the orangutan fit for a life in the wild? If the answer to this question is a resounding yes, we prepare the animals for transport to one of the reintroduction centres.
4. Annual medical check-up
In the first half of each year, the examination is repeated for the stationary patients. In this way, the orangutans in permanent care are put through their paces every year as a standard procedure.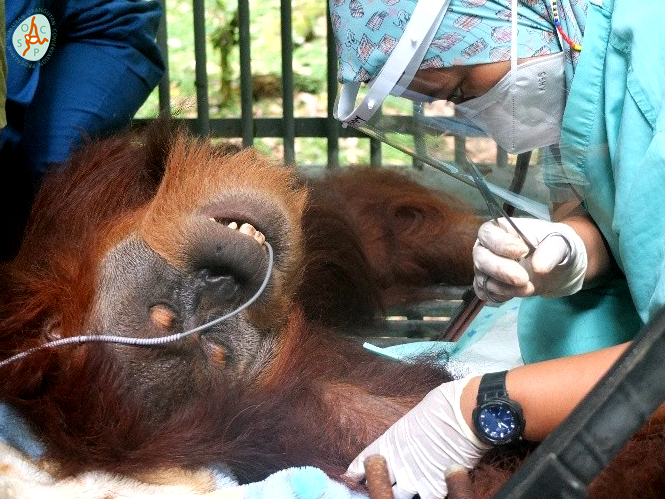 All medical examinations can be carried out in the specially equipped clinic on the grounds of the quarantine and rehabilitation station. Two Indonesian vets look after the health of the animals at the station. Should a case require specialised expertise, external doctors are called in to help. In addition to the standardised examinations, all orangutans are closely monitored by the animal care staff during their entire stay at our station. If an animal shows any abnormalities, immediate action can be taken.